1. Why are CB27 Polyurethane doors better than other local one?
Polyurethane has very good insulation properties and easy reach density of 43 kg/m3 inside the door blade.
Polyurethane foam expand firmly inside the blade, with very strong grip to the sides and to the special aluminum profiles of the blade edges, providing very good blade hardness and geometrical stability for the better sealing.
The door blade can be made in different color or type of material, such as pre-painted steel sheet, stainless steel, PVC, fiberglass or orthers. But mostly we build our door with the finishing of food-grade fiberglass. It is very strong, heavy-duty, low heat conductibility, easy cleaning, long lasting, can be prepared after collision.
Easy to fit inside the blade reinforcement for hardware that are strong grip by the polyurethane foam, to ensure longer life time of the blade.
They have better thermal bridge interruption between internal and external sides to avoid loss of heat to the edges and condensation near the sealing gasket.
Round shape gaskets in double density extrusion, hard on fixing part and soft in sealing part for efficient insulation; and for negative application gaskets are provided with heater pocket, to make the heater easy to replace.
There are no rivets or sharp joints on the sides of the blade, to make dirt hard to clean.
Most of the hardware are made of PVC with fiber glass or stainless steel with soft shapes and covered screws and nuts, easy to clean and long lasting.
We have our heater that develop in sectional parallel wiring. If it burnt, it is out of service only a short section, the door still operates safely, and that can be visualized by ice-built on the door blade or door jamb in order to decide whether change the heater or not.
All doors, materials used and hardware hold the European Certifications for food proof and work safety regulations.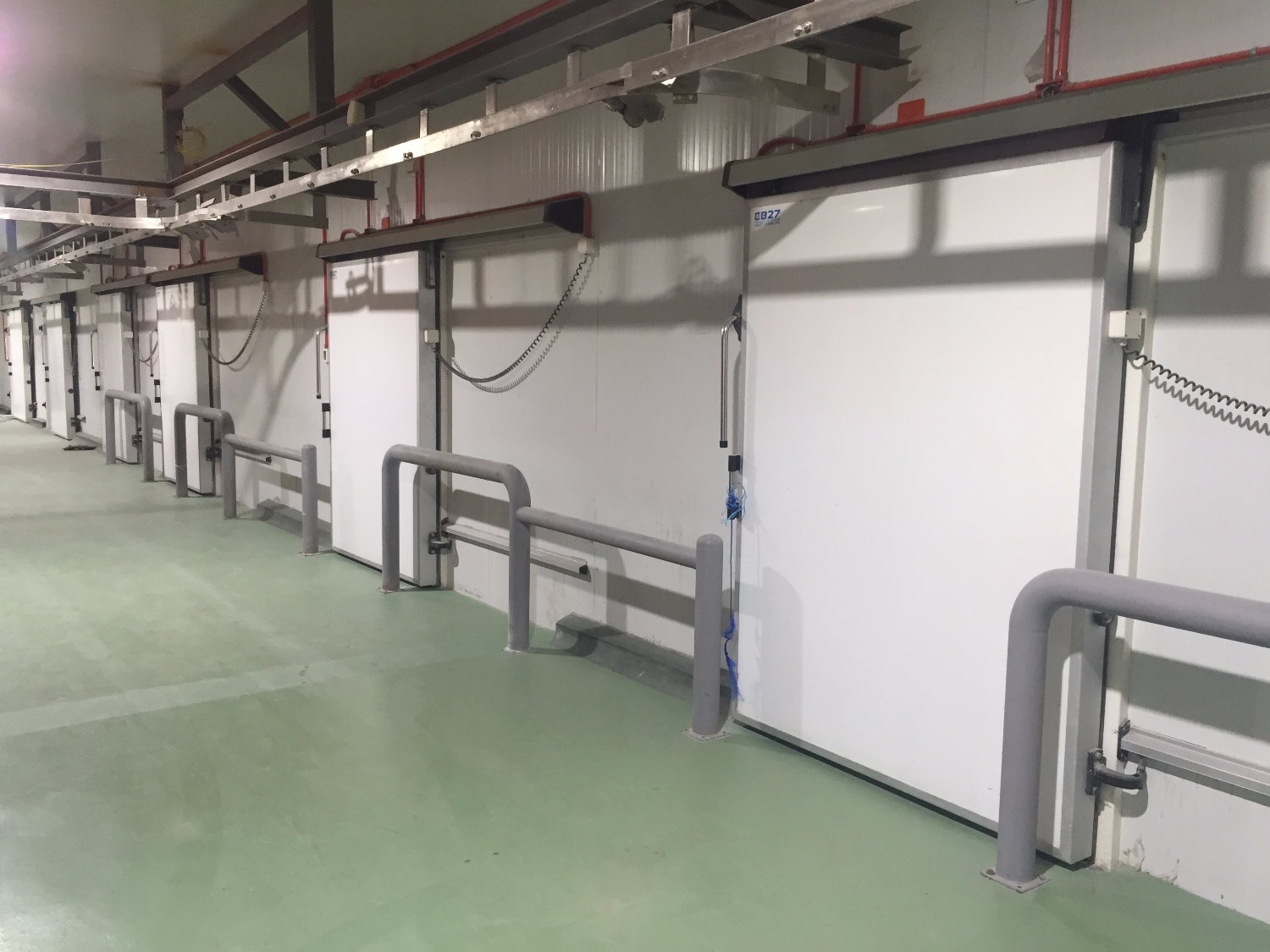 2. Why do we need to use a door frame system with your door?
The experience show that the cold room panels is most wear in the edge of the clear opening, due to accidental crashes and door hardware, that result in significant cold loss; therefore CB27 philosophy is to protect this part that is also critical for the gasket tight sealing.
The cold room panel is often not strong enough to fix the hardware, such as hinges or sliding system and bear long running wear, whereas the CB27 frame is designed to take over all stress of the panel in order to extend the life time of the door and good sealing properties.
The PVC frame is design also for perfect thermal bridge interruption even when it is cover with stainless steel.
For negative application, the heater fixed on the PVC frame, on aluminum special profiles, channel the heat only to defrost the gasket, with minimum loss and only 30w/m heating power.
The life time of the PVC frame is longer than the panel and easy to repair or replace any time.
The PVC frame can secure the perfect geometrical alignments even when panels are not perfectly mounted, (in line or not vertical), in order to improve the gaskets sealing all around.
Due to PVC frame CB27 doors are provided with guiding line on the panel, not on the floor, and sliding drop and push system for tight closing.
3. What is a drop down door system and why is it better than other local made doors?
Better gasket sealing provided by PVC track/guiding bends with and without grove and 6 adjusting systems; 2 on each wheel support one in the rear guiding system and one in front of the door closing, and always clean floor.
Much less wear of the gaskets during operation extend the life time of the door compare with other systems.
Easy to open/close even to very large sizes of doors, by eliminating the gasket friction on the panel and extend the hardware/blade life time.
Need less power for the automation kit and low energy consumption.
4. CB27 door costs more why should we spend more than we currently spend on local made one?
Beside the cooling system, the door is the most were part that can save or loose energy and influence the running cost of the cold rooms; therefore it worth to spend more only once on investment stage and to save money during operation over the life time. By the end the life time cost is lower.
They have improved design to overcome the critical problems of cold room doors. Better insulation and strong blades by polyurethane, better and long lasting sealing system, strong frame to protect the panel and easy operation for long life time.
Modern design, soft corners, no open rivets/screws/nuts, easy to clean for every operation environment.
5. Will installing CB27 doors save me money? How?
The loss of cool and the moisture witch enter through gaps in sealing gaskets and block the cooling unit, can cause up to 30% of total energy loss of a cold room. Thus by using a better door the energy saving can be 10% - 15%, on top of improve operation and life time of the refrigeration plant.
Cost of maintenance for the cooling unit and the door, are lower when using better doors.
Easy to mount and repair in case of damage with low cost.
6. Why use automatic kit for sliding door?
In order to save energy and increase the life time of the door.
Save energy because the door close automatically at desired time setting and reduce the time when stay open.
Increase the life time because the door always is softly operated, correctly closed and protected against accidental crashes, due to safety features of the automation system.
7. Are CB27 doors user friendly? Why?
They are quite light and easy to operate in every temperature range, due to special design of their hardware.
Easy to clean, soft corners and no floor crashes.
Work safety operated hardware, locks with safety release European certified.
8. Who would use CB27 range of doors other than the refrigeration industry?
Hospitals, laboratories, clean rooms, office buildings that need easy clean and tight closing system.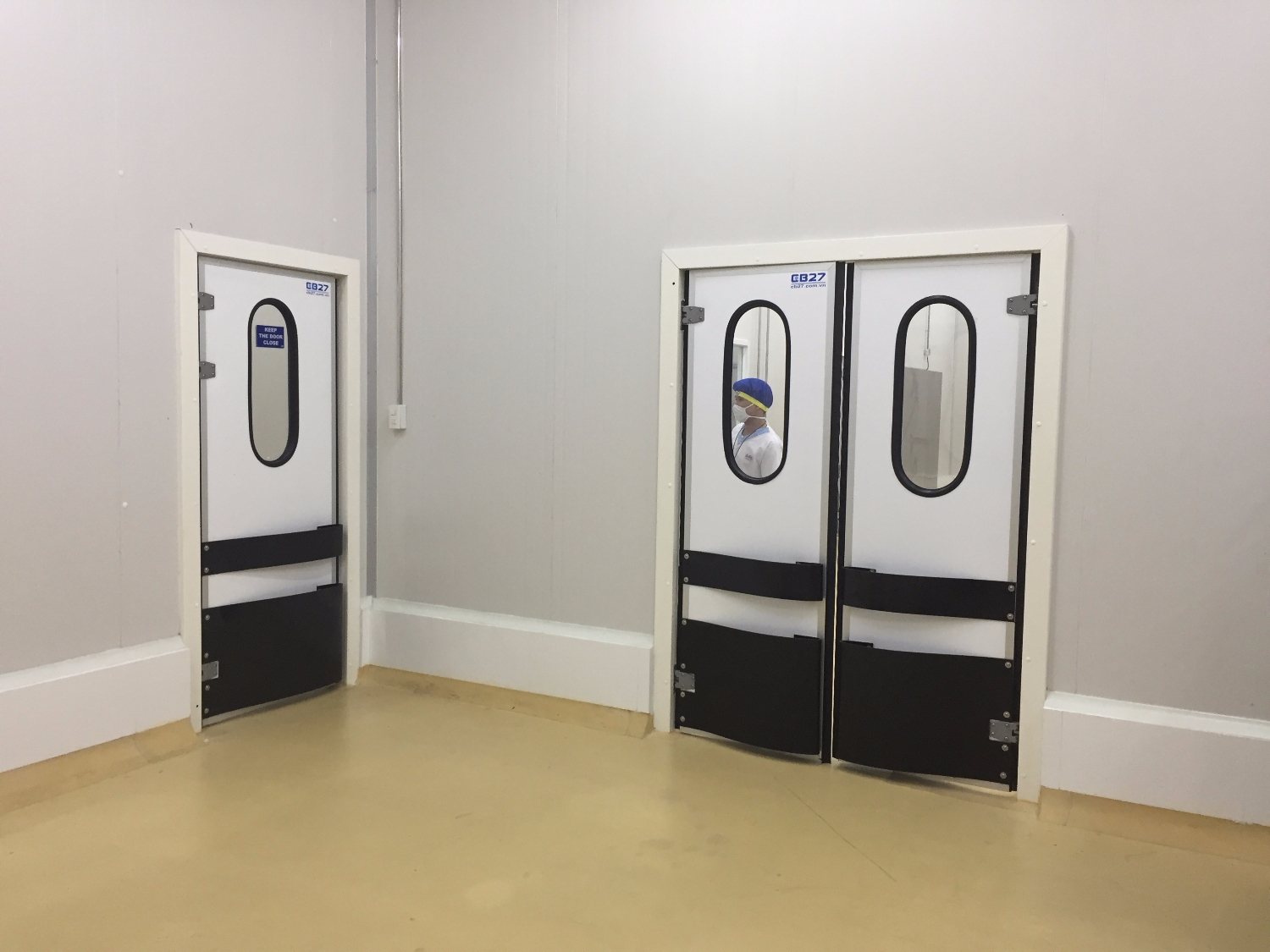 9. Can your doors lower my running costs for my cold room ? How?
10. How long will CB27 doors last for?
They are design to last 10 to 15 years in normal operation, without major repairs, but the life time can be 15 to 20 years for an automated one.