Two trends are affecting the refrigerated warehouse industry – consumers' increasing demand for high quality fresh fruits and vegetables and an expanding list of grocery e-commerce sites that provide convenient shopping for consumers.
Meeting consumers' expectations for quick and reliable delivery of fresh foods has created a need for regional PRWs that can provide just-in-time service for grocery stores as well as their consumers. At the same time, PRWs face challenges that include a shortage of skilled labor, shrinking profit margins, and an increased focus on sustainability.
Most cold storage operators are turning to automation to address their challenges. Different levels of automation exist in PRWs, but two new facilities – one in Tacoma, Washington, in the United States, and one in Melbourne, Victoria, in Australia – take automation to the highest level.
Both fully automated facilities are operated by NewCold. The facilities rely on automated storage and retrieval systems to move and store product in the high-bay warehouse. A small number of employees direct equipment using advanced software systems.
The move toward cold storage warehouses that are fully automated will continue to grow because automation not only addresses labor challenges, but also provides energy efficient building, says Jonas Swarttouw, U.S. Country Manager for NewCold. The energy efficiency comes from a combination of taller buildings that minimize the ceiling and floor footprints – sources of heat – and the ability to reduce use of lighting and conveyors based on activity and to rely on new, lighter-weight, energy-efficient automated technology.
Fully automated, high-bay cold storage facilities have been common in Europe for many years due to the high costs of land, labor, and energy, but interest in the approach is growing in many more countries, says Swarttouw. The Tacoma facility is the first of its kind in the United States, with a second facility under construction in Idaho. The Australianfacility is comprised of two warehouses: one cold storage and one chilled storage. In both cases, customers wanted facilities that wouldprovide the maximum distribution capabilities while controlling costs.
The labor benefits of fully automated cold storage facilities differ globally. Operating a 24-hour facility in the United States usually presents unique workforce challenges – finding qualified employees to work at 2 a.m. as a forklift driver, Swarttouw notes. "Although there are fewer people willing to work in cold storage environments, the requirements of our customer in terms of food safety, short order lead times, and high velocities keep increasing. The use of automation to support our people to outperform is our vision for the next generation cold storages."
In Europe, the availability of labor has been one of the drivers to highly automated cold storage applications, says Swarttouw. "In other regions in the world, where labor is more abundant, the use of automation will support companies to better control the quality of their services and make their teams more productive," he says. "In Asia, it is difficult to find people with the level of training required."
The key to a successful automated cold storage operation is the software solution, says Swarttouw. He describes three layers to control a warehouse:
•
Warehouse Management System
– found in every organization and determines what is in stock, moved in and moved out of the facility, and on what schedule.
•
Warehouse Control System
– controls automated movements of products by the material handling equipment.
•
Programmable Logic Controller
– gathers information from sensors and devices to control overall operations of automated equipment.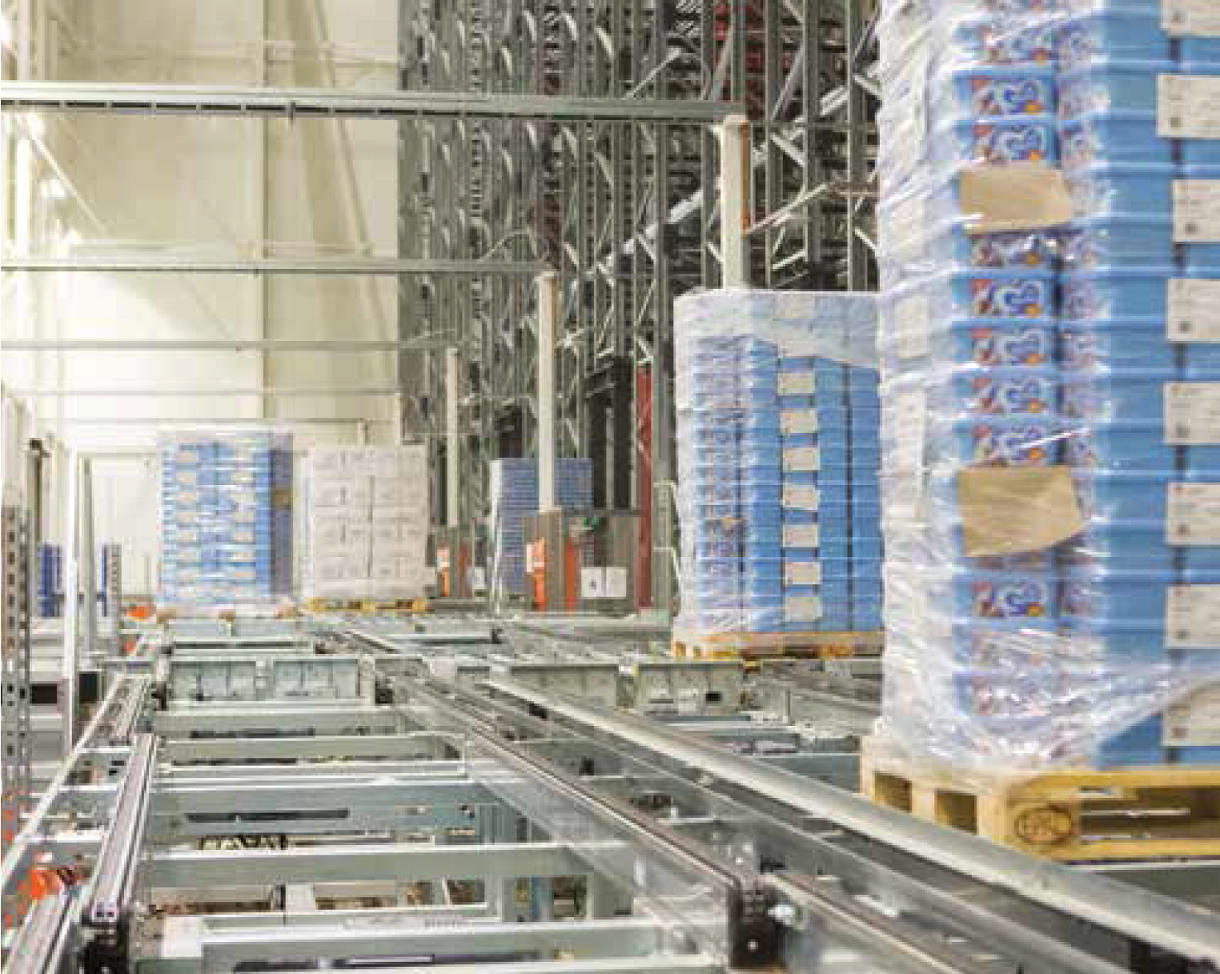 The software used by NewCold in its automated facilities is a proprietary product that they developed. "There are other software packages available, but we made a strategic decision to create our own," explains Swarttouw. "Because automated facilities are a strong focus for us, we wanted to control the software design to meet our specifications and fulfill all requirements of our customers."
"Automated cold storage facilities are not cheap, which can be a barrier for many companies," admits Swarttouw. "Smaller organizations might choose to work with partners who are knowledgeable about automation to reduce the risk."
Swarttouw offers advice for companies who are evaluating the move to constructing fully automated cold storage facilities. "First, conduct an honest assessment of your business and your goals," he says. If moving to fully automated is right for both the customer and the logistics company, there are four phases to the process – each with its own specific set of questions and decisions.
1. Pre-planning and Customer Interview
Talk to the customer to identify their goals and use those needs to identify automation technology that is appropriate, suggests Swarttouw. "Make sure you understand the needs enough to determine the impact of automation on needs as well as cost of building the facility – then select the most appropriate technology," he says. "You can automate every aspect of the facility, but does it make economic sense for your company and the customer?"
2. Planning the Construction
"NewCold is not a construction company, we are a logistics service provider who operates the facilities we develop. We do work very closely with the contractors to oversee every aspect of the building," says Swarttouw. A complex network of construction suppliers such as concrete subcontractors and insulated metal panels as well as racking and automation suppliers make up a cold storage building project. "Even if everything is outsourced, it is critical to oversee every step," he says.
There are some companies that build their own automation technology but NewCold purchases it from suppliers. "We do orchestrate everything to make sure all aspects of the building from the original design to the final product meets our customers' and our own needs," says Swarttouw.
3. Implementing the Automated Cold Store
"Assuming that you have a good building with good technology, the next step is to identify how you will start up the operation," says Swarttouw. "Who do you have in-house who can do that?" If no in-house expertise exists, or if no one can be trained for the task, consider outsourcing the role to a consultant or supplier, he suggests.
4. Operating the Facility
One of the most difficult decisions is to determine who will run the facility, says Swarttouw. "Companies that decide to move to fully automated facilities have to accept the fact that the people needed for these facilities may not be the same people already working with the company," he says. "The function is new and requires more technologically oriented people."
In fact, this is one question that must be asked during the self-assessment phase, advises Swarttouw. "Can you take the step to adjust your workforce if current employees won't fill the need for the new direction?" he asks. "This is a cultural question that each company must answer for itself."
Fully automated may not be the answer for all customers, but it does provide a sustainable, innovative option to address customer needs, says Swarttouw. "The decisions that must be made in the design of the facility are more nuanced and require a thorough understanding of customer needs and automated warehouse operation," he says. "There may not be a wave of every PRW developing new fully automated cold storage facilities soon, but as customers look to address the challenges of sustainability and reliability, the return on investment will justify the strategy for more cold storage operators. In our opinion this tipping point is behind us."
SHERYL S. JACKSON
is a freelance writer based in Alpharetta, Georgia, who specializes in industry issues and trends.
By the Numbers: A look at recently completed fully automated facilities
Australia
Melbourne 1 – Cold Storage
• A fully automated 111-ft (34 meter) high cold storage warehouse with 8 double satellite stacker cranes
• Footprint is 4.3 acres (176 x 100 meter)
• Total storage capacity of 102,816 pallets
• Storage area and loading docks at -23°C
• FEFO handling with a capacity of > 10,000 pallets per day
• > 900 pallets shipment buffer zone so minimal waiting time for trucks before loading
• 19 docks of which two are allocated for automatic truck unloading
• Equipped for container loading and unloading
• Open 24/7
Melbourne 2 – Chilled Storage
• A fully automated 111-ft (34 meter) high chilled storage warehouse with 6 double satellite and 4 single satellite stacker cranes
• Footprint is 5.9 acres (170 x 140 meter)
• Total storage capacity of 110,612 pallets
• Storage area and loading docks at different chilled environment (+2°C, +8°C and +11°C)
• FEFO handling with a capacity of > 10,000 pallets per day
• > 1,100 pallets shipment buffer zone so minimal waiting time for trucks before loading
• 30 docks
• Container yard capable of storing 700 TEU
• Open 24/7
United States
Tacoma, Washington
• A fully automated cold storage warehouse with 8 ASRS
• 140-ft (42.7 meters) tall building covers 3.5 acres
• Total storage capacity of 100,000 industrial US pallets 40"x 48"
• Storage area and loading docks at -5°F
• FEFO handling
• Minimal waiting time for distribution companies before loading
• Open 24/7